Kelly currently coaches the Coronado Girls Golf Team and the team won the 5A CSML Regionals for Southern Colorado back to back for 2018 and 2019. CHS also finished with the number one and three players for Colorado Springs Metro League! CSH finished 4th overall at State both years as well.  The first girls golf team from CHS Golf Team ever to win Regionals and place at State. Madi Eurich, 2018 Senior,is currently playing golf at St. Cloud State. Kate Griffin-2019 was awarded Best Female Golfer for Southern Colorado with her top ten finish at state. Kelly was also voted Girls Golf Coach of The Year for Southern Colorado 2018 and 2019.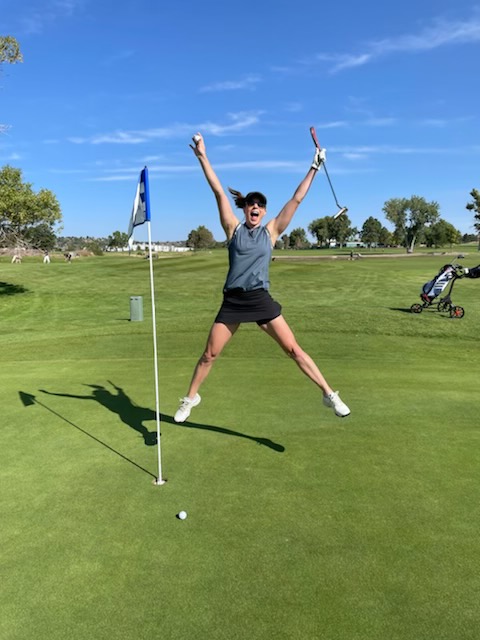 I got my first birdie! This pic is my happy dance. It was on hole 5 at Cherokee Ridge.
~ Beth Gerber
Lesson & Clinic Dates For 2023
Adult Private (45min)
$75
---
Junior Private (30min, 5-15 Years Old)
$40
---
Semi-Private (60min, 2 – 4 Players)
$40/person
(Price negotiated for groups of more than 4 and/or 3-5 Lessons)
Group Adult Lessons
price
Each session includes short/long game
*Max 10 students/$100 each.
June/Sundays:
4-5pm
June: 4, 11, 18, 25
June/Wednesdays:
6:45-7:45pm
June: 7, 14, 21, 28
July/Wednesdays:
6:45-8pm
July: 5, 12, 19
August/Wednesdays:
6:45-7:45
August: 9, 16, 23, 30
3 - ADULT LESSON PACKAGE (45 MINUTE SESSIONS)
price
Three lesson package (45 mins each)
---
$175
5 - ADULT LESSON PACKAGE (45 MINUTE SESSIONS)
price
Five private lessons (45 mins each): Includes play on the Par 3
---
$300
5 - JUNIOR LESSON PACKAGE (30 MINUTE SESSIONS)
price
Five Junior Lessons (30 Minute Sessions)
(5-15 Years Old)
---
$180
BOOK NOW
---
Preferred payment is venmo: Kelly-Hodge-10

---